A few months ago, we proposed to you, in partnership with XBS Telecom sa ,  a kit version of the MMDVM card (the "shield" that is grafted onto an Arduino DUE) in this article: Le Kit MMDVM REEC V3.2
Given the success of this kit, we asked our partner to restart production of a second batch of cards. For our (R.E.E.C.) part, we took this opportunity to make some corrections and improvements, and we therefore called this new kit "MMDVM 4.0".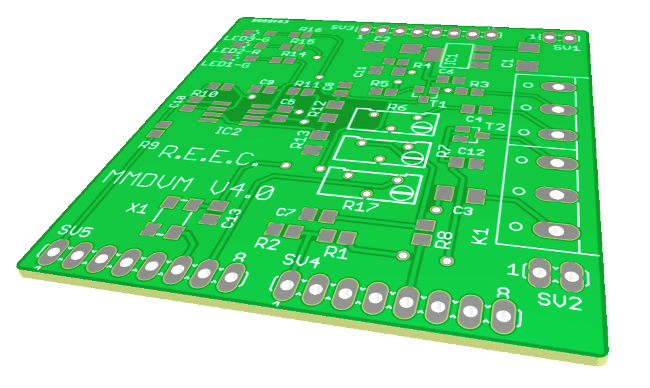 Main modifications are as follows:
The connection error of the TCXO has been corrected, the latter being now properly connected to the SV5-6 pin. It is therefore no longer necessary to do the bridging, as detailed in the article on version 3.2.
The value of resistor R8 has been lowered to have a better adjustment range for the amplification of the audio signal output from the DAC. This proved to be important in order to obtain the correct deviation on a some brands of transmitters.
The kit now also includes an additional input terminal for the RSSI signal. The amplitude of the signal can be finely adjusted by the multi-turn potentiometer R17, mounted as a divider bridge, before injection on the SV5-7 pin of the Arduino.


CAUTION : It is important to do this adjustment BEFORE connecting the shield onto the Arduino board

, to ensure that the output voltage on SV5-7 never exceeds 3.3V. Depending on the receiver, depending on how you retrieve the RSSI signal from the receiver, depending on the strength of the received signal, you may have much higher input voltages than what the Arduino cancope with.